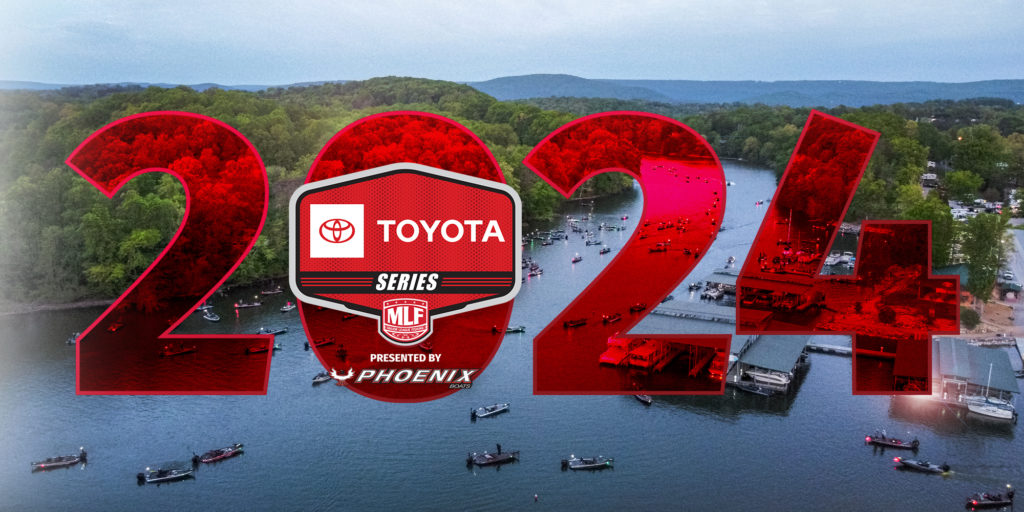 BENTON, Ky. (Sept. 7, 2023) – Major League Fishing (MLF) announced today the 2024 Toyota Series Presented by Phoenix Boats schedule, which kicks off its regular season in early February at Lake Guntersville in Scottsboro, Alabama, and runs through late September when it wraps up at Lake of the Ozarks in Osage Beach, Missouri.
"We're thrilled to announce the 2024 Toyota Series schedule to competitors and fans and feel confident that we're hitting some of the best fisheries in the country at great times of the year," said Mark McWha, MLF Tournament Director. "We're looking forward to seeing some really big weights at some of these events and are anticipating a great 2024 season."
Also revealed Thursday was the location for the 2024 Toyota Series Championship, which will be held Nov. 7-9, 2024, on Wheeler Lake in Huntsville, Alabama.
"Located in the heart of bass fishing, we're proud to host the Toyota Series Championship in Huntsville at Ditto Landing," said Mac McCutcheon, Madison County Commission Chairman. "We look forward to welcoming the competitors to our area and providing a memorable championship experience on the Tennessee River."
2024 MLF Toyota Series Schedule:
Central Division
Feb. 14-16 Lake Guntersville Scottsboro, Ala.
Hosted by the Mountain Lakes Chamber of Commerce
April 4-6 Smith Lake Cullman, Ala.
Hosted by the Cullman County Tourism Bureau
May 2-4 Lake Chickamauga Dayton, Tenn.
Hosted by Fish Dayton – Rhea Economic & Tourism Council
Northern Division
June 5-7 Potomac River Marbury, Md.
Hosted by the Charles County Board of Commissioners
July 11-13 Lake Champlain Plattsburgh, N.Y.
Hosted by the City of Plattsburgh and the Adirondack Coast Visitors Bureau
Aug. 22-24 St. Lawrence River Massena, N.Y.
Hosted by the Town of Massena
Plains Division
March 7-9 Kentucky Lake Calvert City, Ky.
Hosted by the Kentucky Lake Convention & Visitors Bureau
April 11-13 Grand Lake Grove, Okla.
Hosted by the City of Grove and the Grove Convention and Tourism Bureau
Sept. 26-28 Lake of the Ozarks Osage Beach, Mo.
Hosted by the Tri-County Lodging Association
Southern Division
January 25-27 Lake Okeechobee Clewiston, Fla.
Hosted by the Hendry County Tourism Development Council
March 19-21 Harris Chain of Lakes Leesburg, Fla.
Hosted by Visit Lake County, Fla.
Sept. 12-14 Santee Cooper Lakes Clarendon County, S.C.
Hosted by the Clarendon County Chamber of Commerce
Southwestern Division
Feb. 21-23 Sam Rayburn Reservoir Brookeland, Texas
Hosted by the Jasper – Lake Sam Rayburn Area Chamber of Commerce

March 26-28 Toledo Bend Reservoir Many, La.
Hosted by Toledo Bend Lake Country
May 16-18 Lake Eufaula Eufaula, Okla.
Hosted by Vision Eufaula
Western Division Presented by Tackle Warehouse
March 6-8 Clear Lake Lakeport, Calif.
Hosted by Konocti Vista Casino Resort and Marina
May 2-4 Lake Havasu Lake Havasu City, Ariz.
Hosted by Go Lake Havasu
June 5-7 California Delta Oakley, Calif.
Hosted by the City of Oakley
Toyota Series Championship
Nov. 7-9 Wheeler Lake Huntsville, Ala.
Hosted by the Huntsville/Madison County Convention & Visitors Bureau, the Madison
County Commission and the Huntsville Sports Commission
Full program rules and details for the 2024 MLF Toyota Series will be announced later this year.
For complete details and updated information, visit MajorLeagueFishing.com. For regular updates, photos, tournament news and more, follow the Toyota Series on the MLF5 social media outlets at Facebook, Instagram and YouTube .
About Major League Fishing
Major League Fishing (MLF) is the world's largest tournament-fishing organization, producing more than 250 events annually at some of the most prestigious fisheries in the world, while broadcasting to America's living rooms on CBS, the Discovery Channel, Outdoor Channel, CBS Sports Network, the World Fishing Network and on demand on MyOutdoorTV (MOTV). Headquartered in Benton, Kentucky, the MLF roster of bass anglers includes the world's top pros and more than 30,000 competitors in all 50 states and 13 countries. Since its founding in 2011, MLF has advanced the sport of competitive fishing through its premier television broadcasts and livestreams and is dedicated to improving the quality of life for bass through research, education, fisheries enhancement and fish care.